Greeting card sponsored holidays and evil puppies
Okay, this seems to be my recent weekly trend were I divulge plenty about my personal life and less about entertainment. Today's topic, Valentine's Day – yes I'm aware it was yesterday. Had I taken the time to blog, I would have recommended appropriate movies, like
Eternal Sunshine
, or mood music (even if it's just to love yourself) by the
Afghan Whigs
.
Before I get "all up in this" post, I would like to send out squishy hugs and kisses to Ben,
Jon
,
Darren
, James, Kevin, and any other loyal brain drainers out there. You know, you can introduce yourself.
Email me
, just to say "hi" or comment. I love comments (good or bad) I'm needy like that.
I've never been very big on Valentines day. As long as I can remember, I got screwed (or screwed myself), and not in a pleasant way. I always got the crappiest and least amount of valentine's in elementary school. In high school, I was also showered by pink and white flowers, but never red ones. I had a date my senior year with a friend since my jack ass 24 year old boyfriend had pissed me off. I remember distinctly his car wouldn't start and lots of swearing. By the time I had made my way to college, I normally celebrated with either a bottle of Jack Daniels or a bottle of Capt. Morgan's or I had a three way with the two. Unfortunately this normally resulted in declarations of my undying love to someone and/or puking for hours. Junior year was the best binge drinking celebration in recent memory as I was totally surprised by my friend who had broken into my apartment to cook a gorgeous dinner and shower me with flowers, wine, liquor, and a metrocard – possibly one of the best gifts ever at that point in time. But as always, I ended up drunk as passed out by the end of the night, I think. I always felt blessed more by the nights I blacked out – which I think I did my senior year only because I don't remember what I did but I'm guessing I was with my friend Joe. And thus my Bridget Jones styled tradition was interrupted a few years ago when I met Ben.
Okay, so what could possibly be more annoying than being single on Valentine's Day and the self-pity trip that inevitably accompanies it? Well, for myself, it's the situation that occurs when you're in a relationship and everyone, I mean everyone, you come in contact with asks "So, what are you and Ben doing for Valentine's Day?" While the sarcastic bitter bitch inside me that resents most of the middle-aged nosey and pathetic divorcees I work with instinctively wants to launch a shock and awe campaign of all the nefarious things we could do to each other, the polite "likes to keep her job" side of me simply says "We don't celebrate Valentine's Day."
The women then give me this look, this shameful look. It's the same one I was given when I happen to mention one day that I paid for part of my engagement ring because I wanted one set in platinum which is vastly more expensive than gold. It's that "traitor to the cause" look. Granted I don't get the whole evil soul and bank account sucking succubus thing that post college women looking for a husband seam to become. That's another issue for another blog.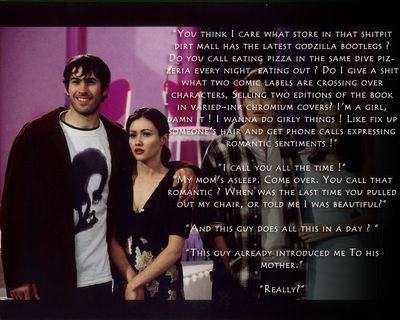 So, why do we not celebrate Valentine's Day? Well, I could demand one dozen long stem yellow or black magic roses. Though, what's the point when a week later Ben could afford 4 dozen for that cost? I could demand dining out. But why, just so I can experience over crowded restaurants where I become angered by insufficient parking and unsatisfactory service? I could request a box of chocolates, although I don't like most chocolate and I would have to spend 3 times as long at the gym to compensate. There is just no way a boy can win on Valentine's Day, so why put any demands on him. I was content to come home, make a peanut butter and jelly sandwich, watch the Westminster Dog Show and 24 and snuggle asleep – just like I do most Mondays.
Click
here
for quick and easy recipe.
Ah, but I came home to much more than that. Ben, my wonderful kitchen executive boy, was inspired to created a red and white themed dinner for me including whole wheat linguini topped with grilled chicken, alfredo sauce, and red peppers. For dessert, we had the best winter stock strawberries he could find dipped in white chocolate fondue. Granted, this meal assured that I would be up bright and early at the gym this morning – which I was.
We then watched the first hour of the Westminster Show and the increasingly subpar 24. I'm a little sad seeing that the Hound group and the Sporting group, the dogs I most like, are on tonight. The Pekingese won the toy group. These dogs scare me! Not as house pets, but the way they're groomed for shows. They are massive balls of fur that move without legs. Something so cute and freaky must be evil.
I would also like to add that I was very excited to receive my invite to our 4th annual Oscar Party, although to his credit, Darren has hosted the past three.
Girls, be nice to your boys. Otherwise, they come crawling to me and I have to "fix" them.
So my friends, that's my thoughts on Valentine's Day.